Southwest Airlines: Panama City Flights
by Cristina Puscas
February 5th, 2010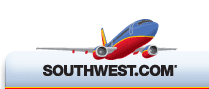 Not long ago we wrote about the Southwest Airlines Vacations: Panama City Sale which allows travelers to save $100 if they book a hotel and flight package in Panama City.
But what if you need to book only the flight? No problem because Southwest Airlines offers flights into Panama City (Florida) between May 23 and August 13, 2010.
The one way fares don't include some of the taxes (but which don't add up too much). Some of the routes and rates are:
from Albany, as low as $127 one way
from Austin, as low as $117 one way
from Baltimore, as low as $109 one way
from Buffalo, as low as $114 one way
from Detroit, as low as $124 one way
from Huston, as low as $99 one way
from Nashville, as low as $89 one way
from Orlando, as low as $75 one way
You can read more details about the offer and the routes on this page.
Don't forget to read the Southwest Airlines Vacations Current Deals
Read more Southwest Flight Deals.