Why should I go on a cruise anyway?
by Cristina Puscas
December 16th, 2009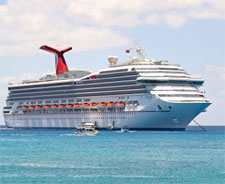 When a friend told me she was going on a cruise for her honeymoon I asked her if she was kidding because it surely seemed funny to me. Many travelers think of cruises as the best option for the retired who have saved enough to travel the world; or for families who want to keep the kids busy while the parents (finally) have some time together. Before booking a cruise, do remember that in case you get bored or something else doesn't work the way you want, you cannot cut the vacation short.
If you reacted the same as I did when someone told you about going on a cruise, then it's time to read more about the reasons to consider a cruise:
1. A chance to see places which otherwise would be out of reach
Say you just managed to find a great deal on last minute cruises to the Caribbean. As part of the itinerary you will be visiting several islands and important landmarks in each place. Would have had the money and time to plan a vacation to those places have they not been included in the cruise? I doubt.
2. A great family vacation
Disney cruises , in particular, a considered some of the best for the families with children. The kids can enjoy a lot of activities and make friends along the way, while the parents will be happy to relax.
3. You've got the time to relax
and do nothing. True, if you are the kind of traveler who needs to visit places and isn't happy until you drop dead tired in the evening, then a cruise will bore you to death. But, in some cases, even those who cannot stand still appreciate the time off to just relax and unwind.
Tip: bring your laptop or at least a notebook and pen. If you need to do something, there's always a good time to start writing some travel stories.
4. A different way to spend the honeymoon
Each of us has different views of what the perfect€ honeymoon should be. Some of us contemplate the idea of a luxury spa and being pampered all day, while others would rather visit the world. And then there are those who enjoy following a schedule of activities and being pampered on board of a huge ship.
5. A chance to find a date
Singles cruises are common these days so if you ran out of options and you still haven't found the one , you can give these a shot. At the very worst, you'll moan about losing some money but you'll have the memories of visiting new places.