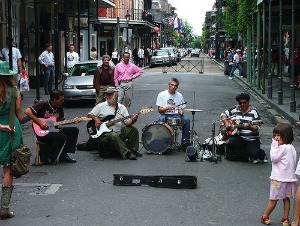 Unless you're lucky enough to live within driving distance of New Orleans, the first order of business upon planning a trip to see the popular annual music festival known as New Orleans Jazz Fest is to find yourself a cheap flight. Airfare is almost always the biggest part of any travel budget, so the more you can cut down on that expense the more you'll save on your trip overall. And as we all know, the more you save on airfare, the more po'boys you can buy. Or something like that.
Flying to New Orleans for Jazz Fest isn't usually as expensive as flying to the city for its most famous festival, Mardi Gras – but it's not unheard of for airlines to raise their prices on flights to New Orleans right around Jazz Fest. They know more people than usual are traveling to the event, and when demand is higher it's the ideal time (in the eye of the airline) to raise ticket prices.
The good news is that Jazz Fest occurs before the height of the busy summer travel season, so prices on airline tickets aren't quite at their peak yet – and if you do a bit of homework before you buy, you can avoid paying the highest prices for your trip. Here are some tips to help you save money on your airfare for New Orleans Jazz Fest.
>> New Orleans Jazz Fest in 2012 is April 27 – May 6.