How To Search Airfarewatchdog
Airfarewatchdog.com is one of a new breed of airfare search sites that has switched up the standard formula to offer something totally new. Instead of loading the page to be looking at a normal search widget, this site allows you find all the lowest fares of the day either from a specific city or to a specific city.
This has several interesting uses, but the one that many people really love is using it as a decision maker to help you find a place where you can fly cheaply. If you know exactly where you want to go then you can find the lowest fares with a few clicks, and also some possible alternative airports to use, which might actually be cheaper.
Step One
Go to airfarewatchdog.com in another window.
Step Two
Focus in on the box in the middle column, which says see today's low airfares. It gets lost on the page until you know what you are looking for, but this is where the action is.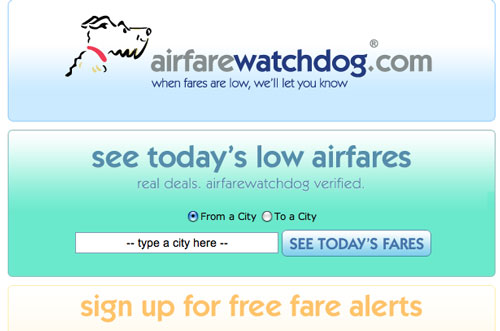 Step Three
Choose if you'll want to search From a city€ or To a City€ with the buttons above the search box, and then begin typing in either the city name or airport abbreviation into the box.
If you want to see where you might fly to cheaply from your home airport, leave the button on From a city€ and type in your city name. If you have a destination in mind then click the other box, enter your destination city, and then click on the big button that says SEE TODAY'S FARES.€
Step Four
Check your search results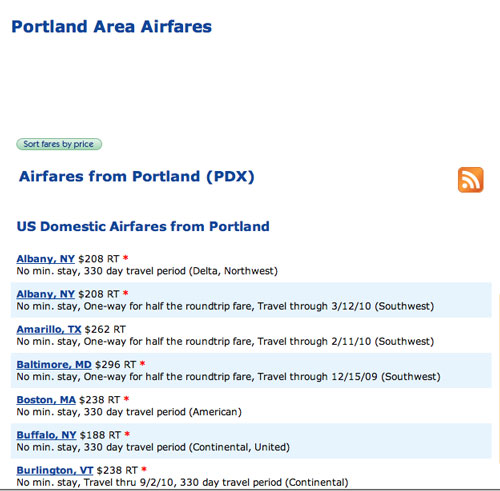 This site is designed in such a different way that it might not make sense at first, but once you figure it out it's extremely easy. In fact, many people are confused with the results screen because it looks like a list of advertisements, but those prices you see are the lowest fares to every US city, in alphabetical order. If you are wondering which is the cheapest possible flight you can take from your home airport, just click on the Sort fares by price  button near the top of the results page.
Step Five
Click on a fare you are interested in to see the details.
In the example here I've found a roundtrip flight from Portland to Las Vegas for $98, which is an amazingly low fare that I hadn't previously heard about. If you want to see if you can get a flight at that price, just fill in your dates into the search box there, and then click on Find Flights.€
Step Six
Choose a travel-booking site with which to complete your search.
This is where things get a bit confusing for first-time users, but this is actually another powerful feature. You'll be looking at yet another booking widget, but this time it's all filled in for you.
Click on the gray Search€ button next to as many of the booking sites as you like. If you've done this sort of thing before you know that they often show different results, which means that the first one might show a noticeably higher price than the next one or two you try.
Usually trying three different sites will show you enough. I recommend Priceline and at least one other.
Step Seven
Buy your ticket!