How to search Booking Buddy for flights
Booking Buddy is one of the newer type of travel search sites, and it works very differently from most things you might be used to. You may have heard of meta-search€ sites, like Kayak and the new Bing Travel (which pretty much just copied Kayak), but Booking Buddy takes it one farther.
On this site you enter your flight cities and dates once and then with just one more click you'll be able to check just about every travel booking site in existence, or at least all of them that could potentially book you on the route you have in mind. This leads to a bit of a clumsy system, but it's actually a great time saver and fairly easy to use once you realize how, and more importantly why.
Step One
Go to bookingbuddy.com in another window.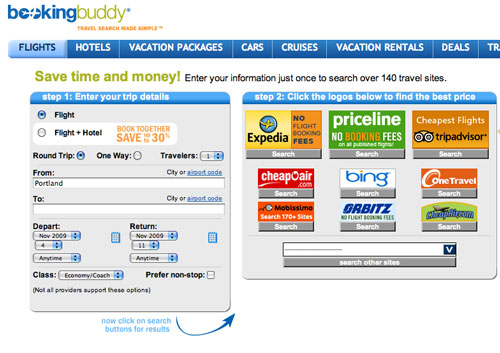 Step Two
Choose one-way or roundtrip and then enter in the dates you hope to travel. This next step is when it begins to get confusing for people the first time they use this site.
Step Three
Click on either the gray Search€ button or on the colorful logos of the first site you want to get a price quote from.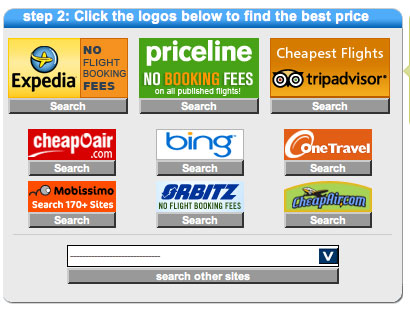 Once you enter your dates and cities you are probably used to looking for a big orange Search button in the same box, but this is exactly what makes Booking Buddy different from all the other sites. It allows you to search other sites almost instantly with just one click for each.
Each new site you click on will pop up in its own window in front of your main browser window. These might seem like spammy pop-ups at first, but this is exactly what is supposed to happen, and it's a good thing.
Strategies for getting the best airfare through Booking Buddy
Those of us in the travel business tend to love this site because it's easily the quickest way to find the absolute lowest fare, as long as you know the dates and airports you already want. The trick is to try at least three different sites before you make up your mind.
WHICH SITES TO TRY?
Even though these sites may all look the same, there are significant differences once you get past the first page. The key to finding the best fare fastest is to use exactly one of each of the three main types of sites.
Traditional online travel agencies
Sites like Expedia and Travelocity can book you a hotel and a limo ride and probably even a meal if you look around enough, and they used to have the highest booking fees, but now they are as competitive as the rest. They even sometimes have exclusive special deals, particularly on hotels, so it's good to try at least one of these two for each search, but you don't have to try both.
>>Try Expedia or Travelocity
Meta-search sites
As mentioned above, Kayak, and SideStep, and now Bing Travel are what are known as meta-search sites. This means they, theoretically, search all the other sites for you, including the airlines' own sites, which are often the cheapest. The problem is that they sometimes miss a good deal or special that one of these other categories of sites offers. The whole point of this thing is that you can often save significant money by checking in every corner before you buy, and these sites don't actually have access to everything.
>>Try Kayak or SideStep or Bing Travel or TripAdvisor
Discount travel sites
This is definitely a bit confusing, but we do have a third category that we'll just broadly call discount travel sites. These aren't always included in the meta-search sites, and they sometimes do offer the lowest fares of all. Priceline and Hotwire are two that most people know, and there are others, but Vayama is the best when it comes to international flights.
>>Try Priceline or Hotwire for US domestic flights or Vayama for international flights.
Step Four
Buy your ticket! You can't buy a ticket at all on Booking Buddy, so once you know the best price on the flight that suits your schedule best, you'll buy that through the site you found it on. Once you get used to this tool it's great, but it is confusing at first for sure.