How to search cheapflights.com for airline tickets
Cheapflights.com is fairly new to most Americans, though this UK-based company is well established in Europe. Its site has some interesting and useful features that aren't found elsewhere, but these features can also cause a bit of confusion to those new to the site.
This site has its real strength for those who have flexible dates, and it provides perhaps the best tools in the industry to find the absolute cheapest flights if your dates are completely flexible. If you have fixed travel dates in mind then it works more or less like most of the traditional flight-booking sites, but getting to that part of the site isn't as obvious as perhaps it should be. With this in mind, we'll take you through a quick run of this site so you can see how to navigate it quickly and find the best flight for you with ease.
Step 1
Open cheapflights.com in another window.
Step 2
Decide whether you want to search with fixed dates or with a flexible schedule.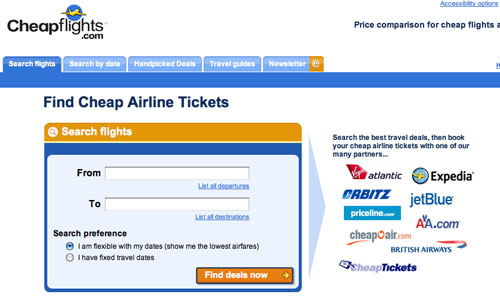 Even if you are fairly certain that you want to travel on fixed dates, it's still not a bad idea to quickly check the flexible date option. This will show you the absolute lowest prices at any time, and you will instantly be able to see how low your following airfare quote is compared to the absolute minimum. We'll take a quick run through the flexible dates option first.
Step 3
If you can, first check your city pairs with flexible dates.

Enter your cities and then click on the orange Find Deals Now€ button on the bottom of the search box.
Step 4
Scan the left column of the results screen for the absolute lowest fares.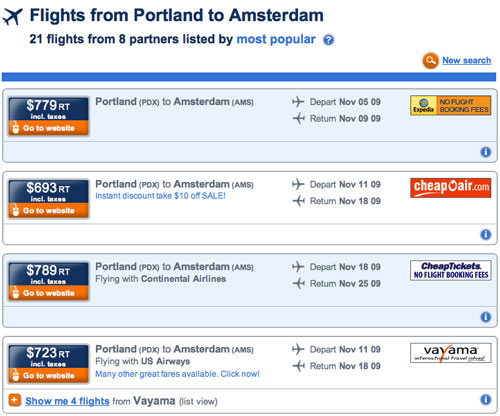 In the case of this example, it scanned 8 different sites and found that US$693 was the absolute lowest fare it could find, which was available on CheapOair.com. With that price in mind, we'll go back and put our preferred travel dates in so we can see how close we come to this price.
Step 5
Click on the Search by Date tab along the top column of the main window.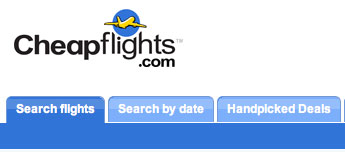 Just clicking on that one button will automatically take you to a familiar-looking search box with your cities already entered in for you.
Step 6
Confirm your cities and enter in your dates, and then click on the orange Search Recommended Websites button.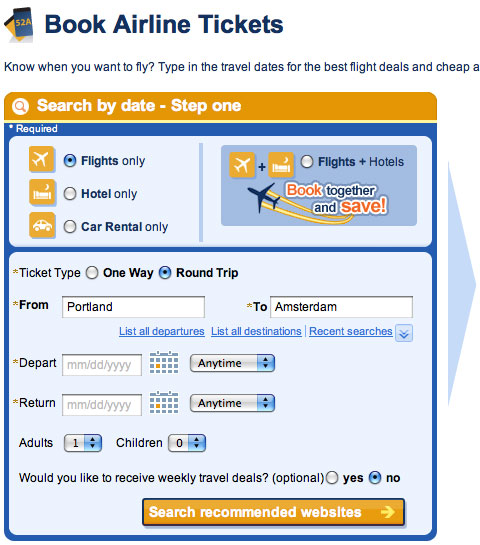 Step 7
From the list on the right side of the screen, click on as many recommended sites as you like.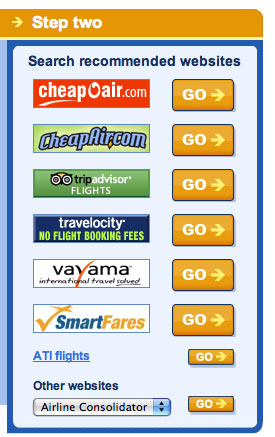 In our case we found that CheapOair.com had the lowest price with no dates entered in, so we'll check that site, plus at least two more to compare and find the best.
Step 8
Examine the results from all the different websites you chose, and then go ahead with your purchase on the one that best meets your needs.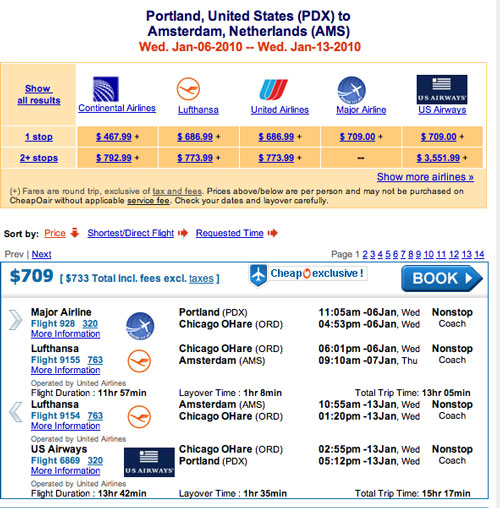 In this example I checked six sites and found that CheapOair.com was in fact the lowest of all, by quite a bit. But that certainly won't always be the case, and this process can lead you astray if you aren't careful, so please consider the following before you make a final decision.
Some of these sites show a base price in large print and then in small print a higher price including taxes and fees.€ Forget the first number entirely as it is meaningless and confusing. One of the sites I checked didn't even reveal the final price until after I clicked Select to get to the final screen.
Another thing to be cautious of is that these sites all list the absolute cheapest flight that meets your criteria on top, but this isn't always the best flight for you, of course. Most of the time you'll find that there are many flights with the exact same price, so you should consider all of them carefully, checking their departure and arrival times for all flights, plus layover airports and durations. You might find that the 4th or 5th result down the page is the best combination for you, and it's easy to miss this if you are in a hurry.
The other part of the way these flights work is you should always look at other flights that are just a bit more expensive than the absolute lowest price. In many cases there will be another batch of flights that are only a few dollars more (literally) and you might even find a nonstop flight there or one on an airline you are a frequent flier on. Being too hasty in this process could cost you many wasted hours on your trip, just to save 2 or 3 minutes right now. It's not a good trade-off for most people.