How to search Cheapoair.com for flights
As if the internet needed another airfare search site, CheapoAir.com joined the fray in 2005 and is now one of the fastest growing booking sites in the US and Canada. Their search system works in a similar way to most of the others, but there are a few key differences that can be confusing unless you are used to the site.
There is one aspect in particular that is very important and easy to miss the first time you use it, so we'll go through all of it below in order to help you find the best fare in the least amount of time.
Step 1
Go to cheapoair.com in another window.
Step 2
Enter your home city and your destination city in the boxes at the top of the search widget on the main page.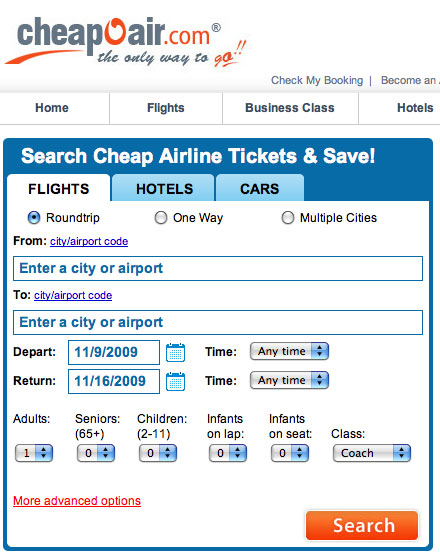 Once you get used to it, their text-suggest tool works well and will find your airports after just 3 characters or so, but at first you might find that it suggests airports that you don't want. Just keep typing in the name of your city and it will eventually find what you are looking for.
Step 3
Enter in your desired travel dates and the number of people going, and then click on the big orange Search button.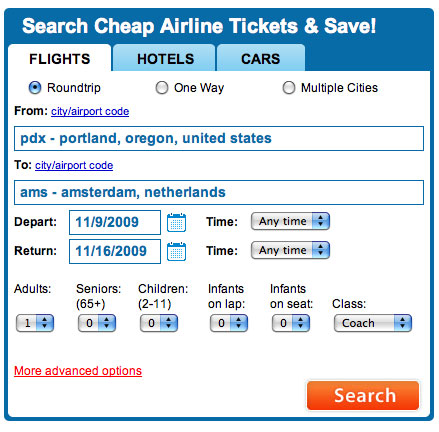 At this point cheapOair.com will begin searching through all the airline schedules it can access in order to find the absolute lowest price available.
Step 4
Look at your search results, but look carefully!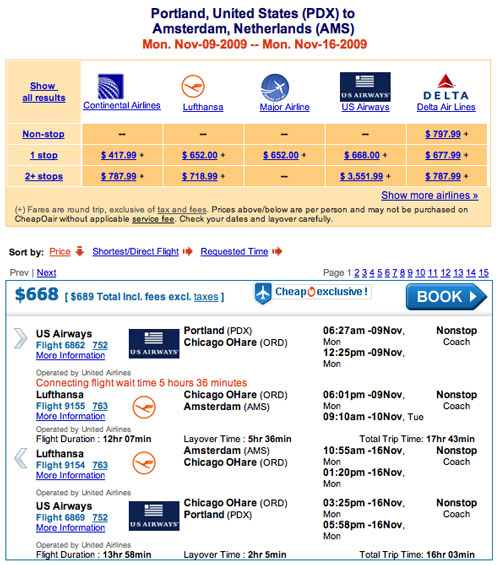 Some airfare sites put the price before taxes and fees in large letters and the final price in small letters. Well, cheapOair.com is even a bit more deceptive. They put the price BEFORE taxes and fees into their grid on the top of the page, so your flight looks amazingly cheap at first.
Then, below, they show a list of flights with the prices including fees but NOT including taxes. Depending on your route (like if you fly into the UK, for example) these taxes might add a couple hundred dollars to your flights. If you are comparing search engines looking for the lowest price ticket you might think CheapoAir is the best, but when you go to actually buy your ticket you'll discover that when you add in these taxes they may be more expensive than some others.
Step 5
Click on the word TAXES to reveal the taxes and the final price.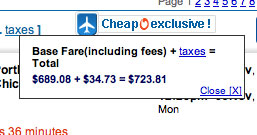 Okay, we'll have to admit that we find this annoying. This site is definitely one of the cheapest out there, but since they don't actually reveal the final price until you click on a tiny link on the page, it seems like it's designed to trick people. The important thing is to ignore those other prices you see until you see this final prices including ALL taxes and fees.
Step 6
Scan down the page to find the best flight for you.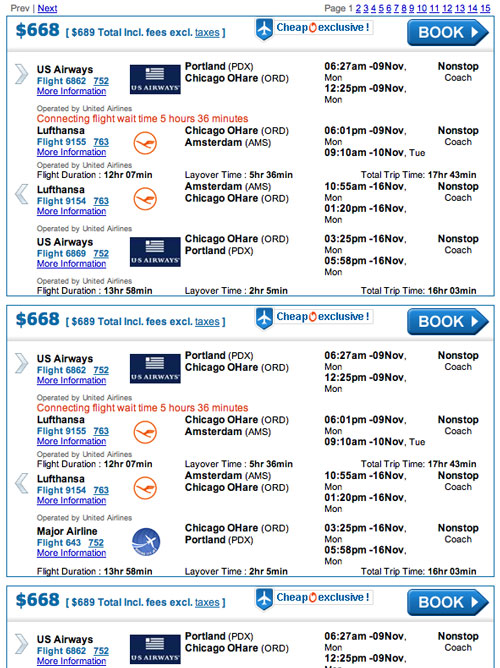 Here's another thing that can make things complicated for people until they are used to using these search sites, but this is true of all sites and not just CheapOAir.com.
The sites all list the absolute cheapest flight that meets your criteria on top, regardless of how long the layover is and whatnot, and then the higher priced flights down the page. As long as you realize this, then it's a good thing, but you have to be careful before choosing a flight.
What to look for when choosing the best result for you
In this era of computer pricing, it's very common to see a bunch of flight possibilities all with the exact same price, and then often another group of flights only a few dollars more expensive. So the best trick is to scan all the way down the list to see where the prices start getting too high, and then scan back toward the top looking for the best combination for you. In some cases you'll have to page through multiple screens in order to find where this break point is, but it's worthwhile.
You might see the cheapest flight leaves at, say, 6:30am, which means you'd have to wake up around 3am just to make it. If you scan down the list you might find a flight that leaves at 11am that is only $3 or so more. Is it worth an extra $3 to get a normal night's sleep before your big trip? Damn right it is! So don't pick the top flight too quickly or you might regret it later.
Step 7
Click on the big blue Book button and then purchase your ticket!
After you click on that button you'll see the full itinerary and full price. It's extremely important to check all of this closely before you proceed. With some of these sites the price has been known to jump up a bit between the time it found the deal and you are ready to book. And if you book and then later realize the price had jumped up, no one can help you get a refund.