How to search cheaptickets.com for flights
Cheaptickets.com is one of the oldest and most popular booking sites on the internet. It works in a similar way to most of the newer sites, but in some ways it's easier to use since some of the trendy new features that tend to clutter up the screen are not here. Still, quite a few people are unsure of how to find the best ticket in the least amount of time, so we'll put the step-by-step instructions below, which will hopefully be easy to follow.
Step 1
Open cheaptickets.com in another window
Step 2
Enter your departure and destination cities in the search boxes.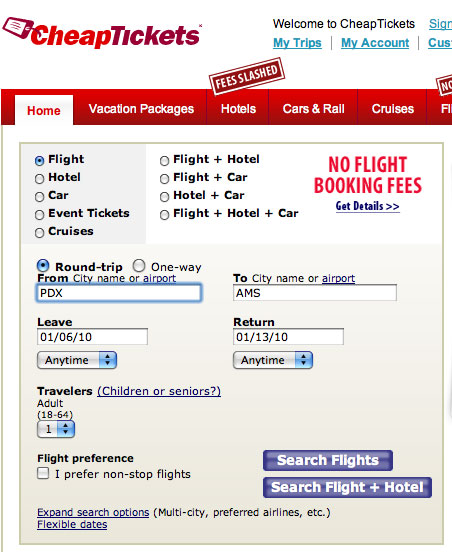 When you load the page you'll see that it should be set to only search flights. If you click one of those other buttons you can also search for a hotel or a car or even event tickets, but for these purposes we'll only search for flights.
On some sites you only need to enter the first three letters and it will give you the most popular city choices after that, but cheaptickets prefers that you type in the entire city name.
Step 3
Enter in your departure and return dates.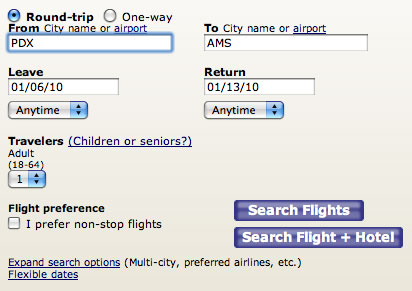 You can enter a preferred time of day for your flights, but unless you are flying between two extremely popular cities, it's probably best to leave those at Anytime and then sort out the results later.
Now click on Search Flights to get your results.
Step 4
Check your results.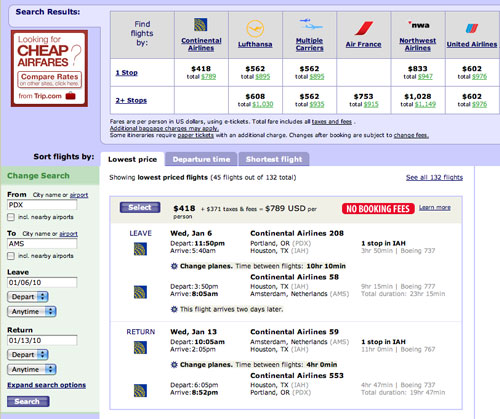 As with all other search sites, cheaptickets puts the absolute cheapest flight on top. There are a few different things you really need to examine here before you begin to make a final decision.
First off, check to see if the departure times and connecting airports and layover durations are acceptable, and even more important you should check some of the other choices below the cheapest to see if you can find a better combination. The way airfare pricing works these days, there are often several flights that all share the lowest price, and then usually another group that are only a few dollars more expensive. It's wise to look at all of these choices and not get attached to any one flight until you've seen all of the flights that are affordable.
In many cases you'll find that for perhaps only one or two dollars more, you'll find flights on another airline or through another layover city that will be a shorter travel time or depart at more convenient times. Spending an extra few dollars is easily worth it in these cases.
Step 5
Find the flight that works best for you, and then click on the blue Select button to begin your purchase.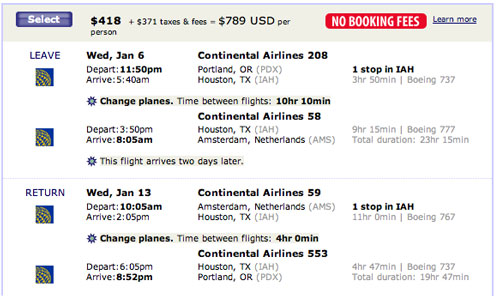 When you get to the confirmation screen after that you'll have another chance to check the dates, the flight times, and the final price. It's extremely important that you do this since these systems do occasionally change things, particularly the price, between the time you first clicked on it and the final confirmation.
If you accept these flights and pay for them, then there is nothing you can do if you later realize that the price went up or it wasn't the time that you thought was most convenient. Buying tickets online can save you money for sure, but it also puts you at risk for these sorts of tricky situations, and there is no one that can help you if something goes a bit wrong here.
Step 6
Fill in your details and buy your ticket!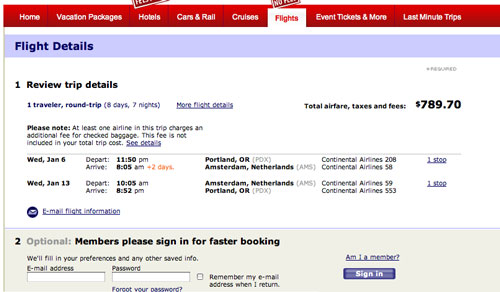 Cheaptickets.com is one of those sites that tries to upsell you into a hotel or car before you pay for your ticket, but it's easy to skip these things if you just scroll down. There are usually better places to find a cheap hotel room, and if you want to change it later then having it bundled with your flight might cause problems anyway.