How to search FareCompare.com for flights
Fare Compare is one of the most interesting new airfare sites out there, with its best and most valuable feature being its ability to predict whether or not your flight might be going up or down in price in the coming weeks or months. If you look around on the site you'll find quite a few different tools that can help you make a purchasing decision, including a great series of articles that tells you the best time to buy for upcoming holidays and such.
In addition to all of that research, FareCompare.com also has an excellent flight search tool built in. In some ways it works similarly to a few other sites out there, but it can be confusing at first. Just follow this simple guide and you'll be checking the best prices on the site in no time.
Step 1
Go to farecompare.com in another window.
Step 2
Enter your destination and arrival cities in the search fields down the left side of the page.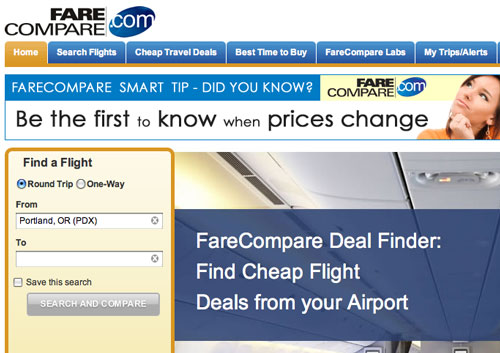 This is where things can get a bit confusing. If the site can correctly detect the city you are searching from, it will put it into the from€ field itself. If not, click in that box and begin typing. Once you click into the To€ field below that, you'll notice that the small search window opens up to the right, offering quite a few more interesting options.
Step 3
Enter your desired departure and return dates into the boxes to the right.

Here is where it begins to get confusing, at least at first. FareCompare has its own meta-search€ engine built in, very similar to those in Kayak.com or Bing Travel, but it also seems to want to entice users into checking on other online travel agencies as well. Now you have to figure out which sites you want to use in addition to FareCompare's own search tool.
Step 4
Select which sites to search on.
FareCompare will have at least 3 boxes already checked for you, and sometimes more. It's definitely a good idea to check at least three different sites (including FareCompare itself) so this is convenient, but it can also be surprising when you first click on the gray Search button and find at least 3 new windows popping up and all the different sites searching at the same time.
Which sites to use?
It's a good idea to check Priceline and either Expedia or Travelocity, along with FareCompare itself. Some of the other sites, like TripAdvisor, will almost always produce the exact same results that FareCompare does, so there isn't much point in using that one.
In most cases it's wise to check a minimum of three different sites, as long as they are different types of sites. The larger and more traditional online travel agencies will sometimes have special exclusive offers, especially when it comes to hotel rates but also with flights at times, so even though they are often the most expensive choice, sometimes they actually have the lowest prices of all.
Step 5
Click on the big gray Search and Compare  button near the bottom of that window.
The button seems almost hidden compared to everything else, but once you click on it you'll find that FareCompare begins to search its own database and it also will pop open new windows for each of the other sites you've chosen.
Once in a while you'll discover that the dates didn't go through the system properly and those new pop-up sites don't show results, but usually the exact same parameters will be used on all sites, so after 20 or 30 seconds you'll be able to see the lowest price that each site has come up with.
Step 6
Check your results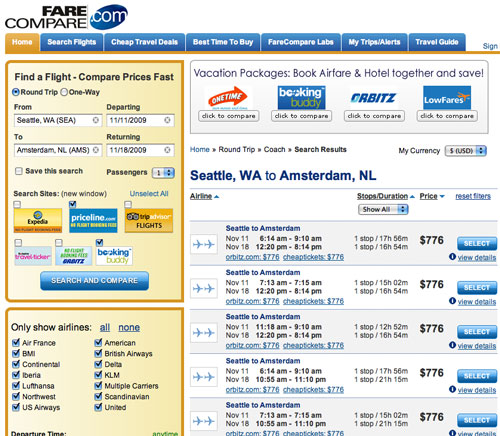 Now this is a very important part of this whole complicated system. Each site will clearly show the lowest fare it could find for those cities on those travel days, but that might not be the whole story. For example, one site might find a nonstop flight for $295 and another site might show its best price with a long layover for $289. If you aren't paying attention, it's easy to just close up all the boxes except the cheapest one, but you also must make sure that the flight times and connections suit you well.
Step 7
Identify the best flight for you and then proceed to purchase your ticket!
Again, it's important to check all the details on the flights you are considering before you buy. You might miss a better flight at a far more convenient time that costs a few dollars more than the cheapest one if you don't look closely.