How to search Flights.com for flights
Flights.com says it's been around for over 10 years, though in that time they've managed to avoid becoming one of the better-known online travel agents, in spite of having a great site name. Their flight search tools work in a similar way to most of the major booking sites that you've heard of, but without a few of the newer bells and whistles that the others have added.
You'd think that having a simple site like this would make it very easy to use, but it's also missing a couple of the new features that make other sites more convenient. There are also a few things to watch out for once you get your results, so we'll go over all of that below and help you find the best ticket for you with the minimum of hassle.
Step 1
Open flights.com in another window.
Step 2
Enter your departure and destination city names in the boxes provided.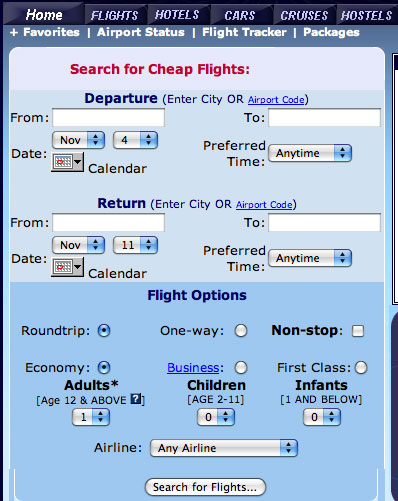 Here's one place where flights.com feels a bit behind the other sites. Instead of only having to type the first three letters and then getting a list of airports from which to choose, you'll have to type in the entire city name here. Fortunately it puts the city names into the return-flight boxes for you, or you can choose to build your own open-jaw€ ticket, which is a nice feature here.
Step 3
Enter in your preferred travel dates, plus the number of people traveling and if you want a one-way or roundtrip flight.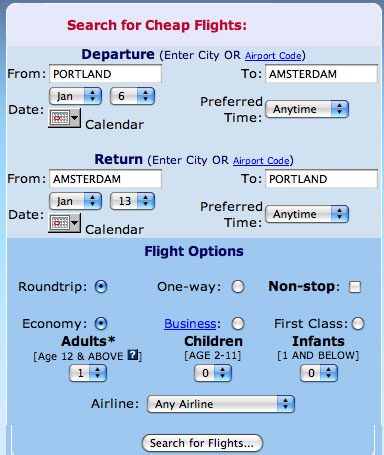 When you get to this point you'll also have a list of airlines to choose from. Unless you have a great reason to prefer only one airline, it's best to leave it displaying any airline  so you can compare all the prices and not risk missing out on a great deal.
Step 4
Click on the Search for Flights button.
At this point flights.com might ask you to confirm the city or airport you are flying into or out of if it finds more than one possible match.
Step 5
Check your results.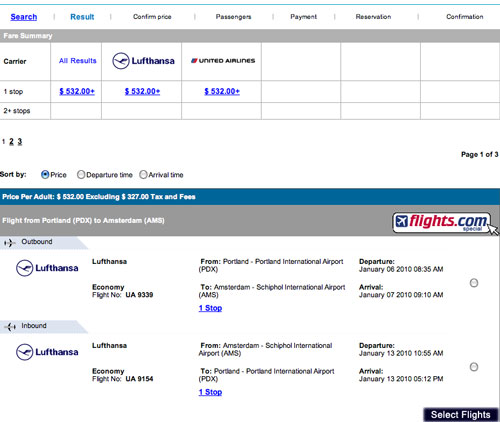 At this point Flights.com will show you a summary of all the flights it found that meet your criteria on the top of the screen, as well as a listing of each flight below that, with the absolute cheapest flight on the top of the list.
This is where the site can be a bit confusing. In the case of this example it shows the cheapest roundtrip flight is $532, which would be a phenomenally good price for this route, but if you look carefully at the details below you'll see that the above price does not include taxes and fees, and as we all know by now these taxes and fees can sometimes be higher than the price of the ticket itself.

The taxes and fees for this flight add an extra $327 to the price, so the whole thing is $859, and this is actually more expensive than we've found on any other site. Flights.com does have some great prices available, but don't be fooled by comparing a price including taxes and fees on one site to a price without those on this site.
Step 6
Look closely down the list and then pick the best flight for you.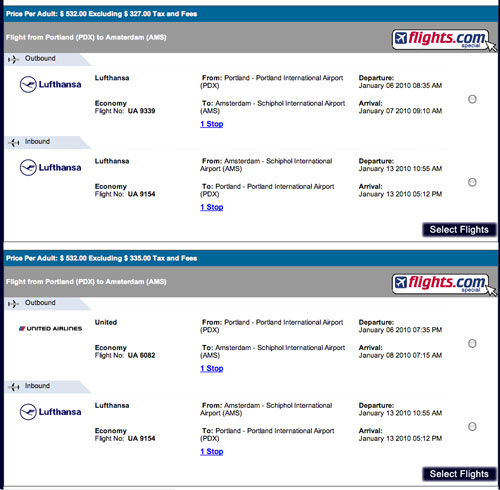 On all of these sites they put the cheapest flight on top, and then all the others in order of price down below. If you look closely you'll usually notice that the difference in price between the top 5 or 10 or 15 results is only a few dollars. This means that the top choice might be at an inconvenient time or have a long layover or connect through a remote airport, and one down the page might be the perfect combination for you and only $5 more.
The best thing to do is keep scrolling down the list until you see where the price jumps up a lot, and then go backwards looking for the perfect combination. If you don't see something just right then look on another site, as flights.com doesn't list every possible flight out there.
Step 7
Choose your flights and click on the big Select Flights button.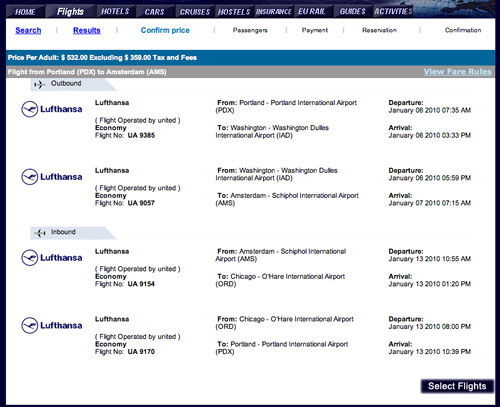 On the following screen you'll have a chance to see all the details of the flight you've chosen, including layover and flight times. Check all of this carefully and then click on the Select Flights button at the bottom to confirm that this is acceptable.
Step 8
Buy your ticket!
At this point you'll be able to see your flight details one last time and then put in your name and frequent flyer number and such. From here it's easy and straightforward.