How to Search Hotwire for Flights
Hotwire has been around for a long time, and it's usually best known as a place to book cheap hotels or rental cars without knowing the exact location or company you are booking with, but they also book flights and they offer great rates and exact airlines and times.
Using the site is fairly straightforward if you are used to using other flight booking sites, but it's also easy to get confused along the way, so below you'll find easy instructions for how to find the best flight for you in the shortest amount of time, with a few helpful tips thrown in.
Step One
Go to Hotwire.com in another window.
Step Two
When you first get to Hotwire it's usually set up to search for hotels, so you have to click on the Flights button to the left of the search boxes. Don't bother filling anything else in first, since clicking this button will change your options.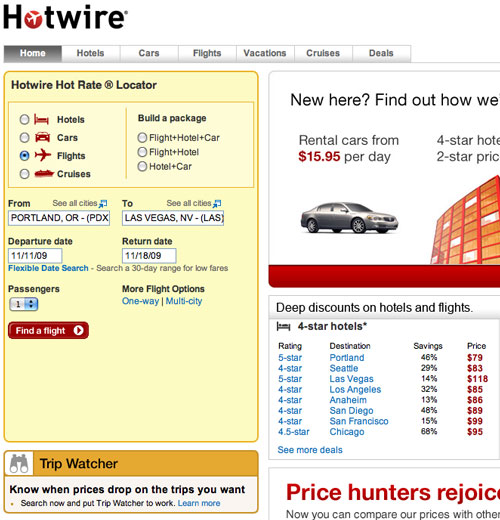 Step Three
Enter your departure and destination cities. You can type just the first three letters of the city name or the airport code, and then Hotwire will present you with a list of matching choices.
Then enter your departure and return dates. Just click on the little calendar icon and you'll be able to pick your dates from a small page, so you'll be sure you are choosing the right days of the week. If you have flexible dates you can instead click on the small link below the departure date, and there you'll be given more options.
Enter the number of passengers traveling, and then click on the red Find a Flight€ button to begin the search.
Step Four
Examine your search results.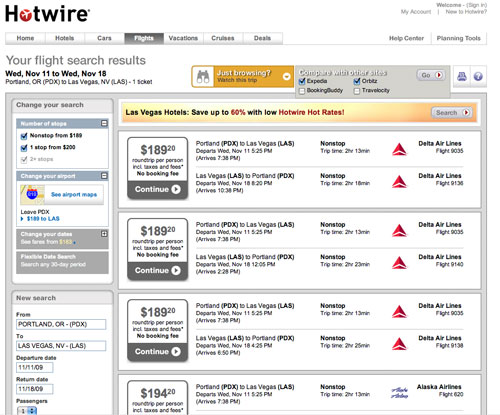 Unlike many other sites, Hotwire gives you the entire fare down to the penny, including taxes and fees, so you'll know exactly what you will have to pay if you book the trip.
All the results will be flowing down the page with the lowest fares on top, and getting higher as you go down the page.
Tip: In many cases on popular routes you'll find that there will be a very small difference between the lowest fare and the next lowest fare, often only a few dollars, but the way the system is set up you'll often see a long list of prices matching the lowest fare, all by the same airline and possibly at inconvenient times. If you look closely you might find that by paying just a few dollars more you might get a nonstop flight instead of one with a layover, or at far more convenient times. So the point is, scan well down the page and don't automatically start booking the cheapest flight on the top of the page.
Step Five
Pick your flight by clicking the Continue link below the price of that flight.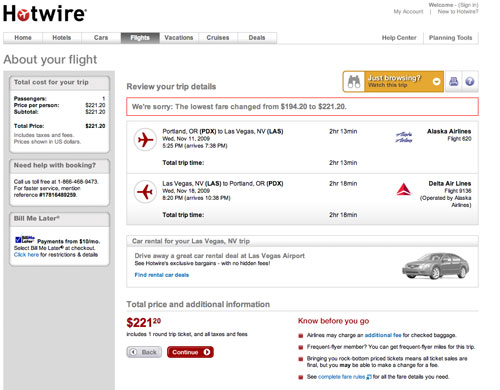 All the flight information will then be shown on the final results screen. Be extra careful that everything is exactly as you intended before going any further. In the case of the example above, you'll notice if you look closely that the price went up by $27 from the time we got the results until we were ready to pay, but it's not easy to spot on the page.
Unfortunately, this can be common on competitive routes and during certain times of the week, so it's important to read everything on this results screen before you commit. Once you buy the ticket, you won't be eligible for a refund if you later notice that the price went up when you weren't paying attention.
Step Six
Hit the red Continue button and buy your ticket!
At this point your price should be confirmed, but Hotwire will also try to get you to rent a car or book a hotel or get traveler's insurance. If you are interested in those then great, but if not just keep clicking Continue and you'll soon be where you can enter your credit card number, and you are done.