How to search Mobissimo.com for flights
Mobissimo.com was started in 2004 and it's one of the newer players in the travel-booking field. It many ways it works similarly to Kayak.com and other meta-search sites like that, but Mobissimo also adds a few interesting features that the others don't have so it's well worth checking out.
Using the site is fairly straightforward, but unless you are familiar with their offerings you might miss some of the best features. Below we'll take you on a guided tour of the quickest and best ways to use this site, along with a few tips that will help you find the best flight for you in the shortest amount of time.
Step 1
Load Mobissimo.com in another window.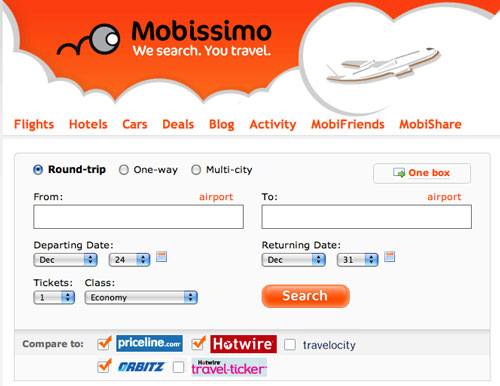 Step 2
Enter your starting city and your destination city in the large boxes in the center of the screen. Then select your travel dates from the drop-down boxes just beneath where you enter the city names. Next choose the number of passengers and the class you prefer to travel in (leave it at Economy for the cheapest tickets) and you are ready to search.
Step 3
Click on the big orange Search button, but only after considering if you want to check other travel sites at the same time or not.

One thing that can be a bit annoying about Mobissimo is that they pre-check several boxes that will send your search to various other travel sites, and they don't make it obvious that they are doing this. Checking other sites is actually a fine idea and something that I encourage most people to do, but it's still a bit low that they kind of trick users into doing it since they make money for each outside search.
Let's assume you've left 2 or 3 boxes checked when you do your search, since this is actually quite helpful.
Step 4
Check your results and compare them to the other sites you've chosen.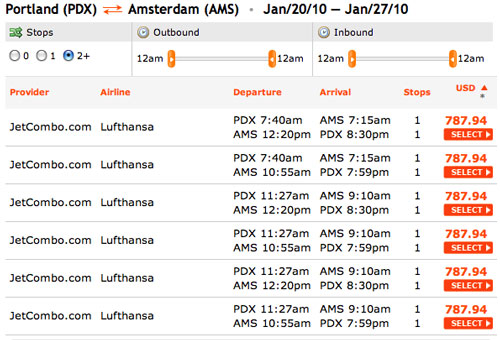 On the Results page Mobissimo does a great job of making the options compact and easy to read and compare, so in this case it's one of the nicest sites of all. Just be sure to keep looking down the page, since they place what appears to be an advertisement part of the way down the list.
Typically you'll find that many flights all have a very similar price so it's important to keep looking down the list to find the exact departure and return times that fit you best. You might find that a departing flight that seems way too early for you is the cheapest, but for only $5 more or even less you might find an ideal departure. Don't rush to choose your flight until you've examined them all.
If you've chosen to have Mobissimo.com check other sites for you, you'll notice that they have popped under your main browser in windows of their own. They should have complete results waiting for you when you find those pop-unders, so you should check their best prices and compare them all to what Mobissimo itself offers. If another site has a lower price, use that site to complete your purchase, but be careful that you are seeing the final price including all taxes and fees, since many sites have started to show only the subtotal to try to fool customers into thinking they have by far the lowest prices.
Step 5
Consider Mobissimo's other unique Recommendation features before you buy.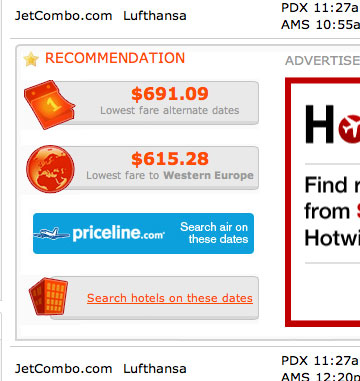 If you look at the box in the middle of your search results you'll see two interesting options that you should at least be aware of. The first one shows the lowest possible fare for alternate dates to your destination. If you click on that price it'll run that search again and if that price is still valid (it won't always be valid) then you might think about choosing different dates to lower your own price.
The other Recommendation is an even lower fare to an airport in the same region. In my sample search it's showing that I can save almost $200 by flying into London instead of Amsterdam. If I'm just trying to get to that part of the world then this could really come in handy.
Step 6
Select the flight that works best for you from all of these options, and complete your purchase.
Mobissimo.com is one of the many sites that allows you to search multiple sources, but they don't actually book flights themselves. After you click on the Select button you'll be sent to the website where that flight and fare were found, and from there you can complete your purchase. It's a handy feature, but it can be surprising the first time you use a site like this.