How to search Vayama.com for airline tickets
Vayama is one of the newer airfare search sites, and it's also one of the best. Its slogan is international travel solved,€ but it lets you find the lowest domestic airfares in the US as well, so don't hesitate to try if you are staying in the States.
It generally works the same as the other airfare search sites, but it has a few unique features that could confuse some people. We've spent a long time working with this site, and feel it's probably the best out there for low international airfares, so let's go through it step by step to make sure you get the best results possible.
Step 1
Open Vayama.com in another window.
Step 2
Enter your starting and destination cities in the search box on the top left of the screen.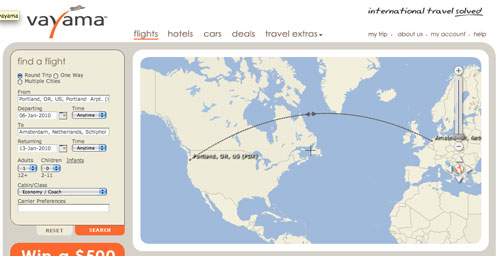 For now, just ignore the big map in the center. Once you enter your cities in it will show you the route the plane would take if it went nonstop. This map feature is kind of interesting to see, and definitely flashy, but it really doesn't help you get a lower fare.
Step 3
Enter your departure and return dates into the search box. Once you have all your details in, click on the orange Search button on the bottom right of that box.
Step 4
Check out your results.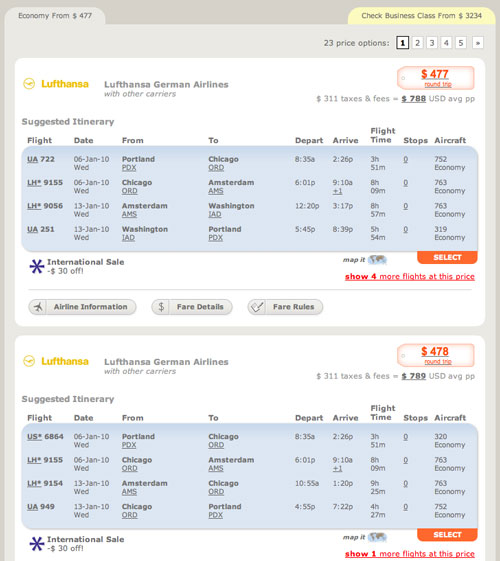 This is where things can get a bit confusing, but once you get used to their format you'll probably really appreciate the lack of clutter on the screen.
Like on all other airfare sites, Vayama lists the absolute cheapest flight on top, but of course this isn't always the best choice, so you have to look at this carefully. In the case of this example, it's showing that my US connections will be on United Airlines and my Trans-Atlantic flights will be on Lufthansa.
Step 5
Look carefully at two pieces of information on the screen.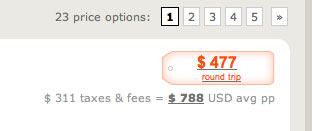 Number one, don't get fooled by that really low price in bright orange that is meant to get your attention. In this case it says $477 roundtrip in a style that can be seen across the room, but when you look just beneath that you'll see that there are also $311 in taxes and fees, so the total fare is $788. Most other sites just quote the total fare, so you can pretty much just ignore the low price in orange, because it's meaningless.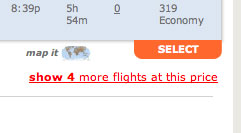 Number two, notice that there are 4 more flights at this price.€ After you click on that link it will open up 4 more options just below, and it's very possible that one of them will be at a more convenient time than the top one, or perhaps have a shorter layover or even connect in a city that I'd prefer to connect in.
It's wise to look closely at ALL the options before you are ready to make a decision. Notice that the second option down, which is the first one of the 4 new options I'm now seeing, leaves 3.5 hours later than the first option, but gets into Amsterdam at the exact same time. You have to wonder why anyone might prefer a 4-hour layover in Chicago instead of a 1-hour layover, but if I didn't check these other options I'd never have known about this.
Step 6
Select the itinerary you prefer by clicking on the orange Select button to the right of it.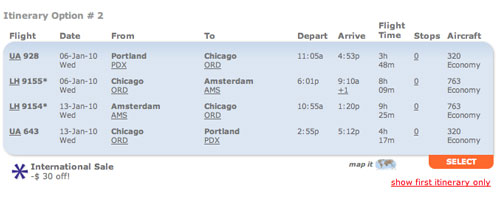 At this point it's also important to check the final price of the ticket once more before you buy. Vayama tries to include a Trip Insurance policy with your ticket unless you click on the No, thank you€ button below. If you didn't look closely you'd buy the insurance without even realizing it.
Step 7
Finalize your purchase.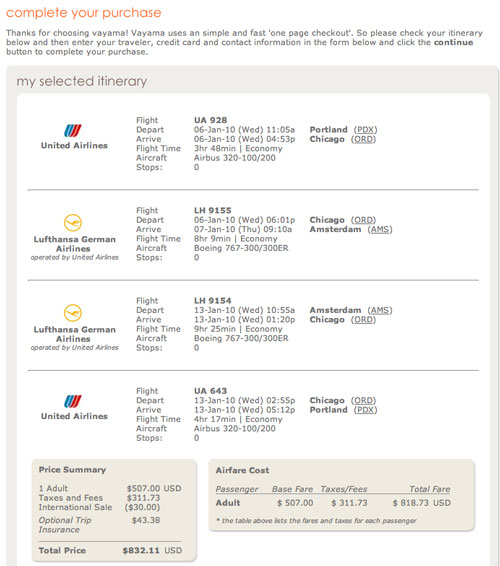 Below the itinerary screen you'll see where you enter in your details and credit card info and such. On the next screen you'll have one last chance to look at your itinerary and the price before you commit. If you click on Confirm and notice a problem later, there is little they can do to help. Bon voyage.