Budget Traveler Interview: Chris Christensen
by Jessica
April 22nd, 2011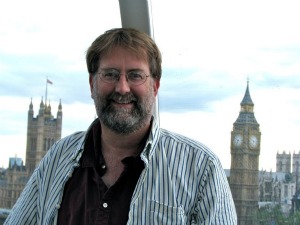 We love hearing from travelers, so we're starting a new series on Cheap Ticket Links in which we'll talk to one budget traveler each week. If you know someone – or are someone – we should talk to, please let us know!
This week's budget traveler is Chris Christensen. Chris is the host of the Amateur Traveler. The Amateur Traveler is an online travel show that focuses primarily on travel destinations and what are the best places to travel to. It includes both a weekly audio podcast, a video podcast, and a blog. He is also a Director of Engineering at TripAdvisor.com for the New Initiatives group.

Do you like traveling on a budget? Why or why not?
It is hard for me to travel as anything other than a budget traveler. I am pretty cheap by nature. I get this from my frugal parents who raised me on stories of the Great Depression. Also I subscribe to the school of thought that a budget travel tends to connect more to the local culture than one whose only interaction is the pool boy.
What's your favorite budget-friendly location that you've ever visited?
Tanzania was amazing. The airfare to get there is expensive but once in country even the locally-arranged safaris were relatively inexpensive. I am not by nature a shopper when I travel but I loved the crafts in Tanzania… and they were so inexpensive.
What do you do to make expensive destinations easier on the wallet?
We tend to look for low cost hotels or apartments. Even expensive cities like London can be cheaper if you share an apartment with a group of people. Also I am more likely to eat street food or an inexpensive dinner rather than some fancy four course dinner with flaming entrees.
What are some things you consider to be worth the splurge when traveling?
In the past I have balked at paying for that museum or tour and then kicked myself later that I flew halfway around the world and let some comparatively small fee keep me from getting the most out of my trip. So now I will pay the fee to take pictures or hire the local guide because I know how much it will add to the experience.
If money were no object, do you think you'd still be more of a budget traveler or would you spend lavishly on travel? Why?
If money was no object I might still stay in the small hotels or apartments, but you better believe I would fly business class so I could lie flat, all all 6′ 3″ of me.
What are some places where you have been able to save on travel that you think most people overlook?
We flew to Europe a few years ago in Summer when rates where high. But we got a more reasonable rate by tracking down a charter flight. We also book far enough in advance to use our frequent flyer miles when rates are higher.
Tell us about a "big save."
Not counting some free travel I have gotten as a travel blogger/podcaster I think one of the most memorable trips we did was a Windjammer Bare Foot Cruise in the Virgin Islands. My wife, two kids and I took this trip to celebrate my 40th birthday. We sailed on a 3 masted sailing ship. The kids sailed for free because we booked using a special deal. Sadly Windjammer has closed down.
What's the most over-priced part of travel – the budget-buster?
This Summer it will be airfare. I work at TripAdvisor now on their flights search engine and we are seeing flights to Europe where the fuel surcharges and taxes double the price of the ticket. Ouch.
What's the most embarrassing thing you do to save money (travel or not)?
I work as a Director of Engineering which pays pretty good. But we still clip coupons and look for bargains. Hey, it's my money.
What are some super-affordable places to travel in the world right now?
With $4 a gallon for gas bumping up the price of gas and fuel surcharges on flights this will be a tough year for budget travel. If you like cruises there are still deals there, although they are not my favorite method of travel. Also tours with airfare included to places like China can still be a great bargain. For the independent traveler, it is going to be a rougher year. Use your frequent flyer miles, couch surf or home swap.
You'll find more information about Chris at the Amateur Traveler site; and he's on Twitter as @chris2x.