Budget Traveler Interview: Diana Edelman
by Jessica
August 19th, 2011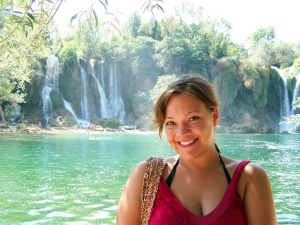 We love hearing from travelers, so we're starting a new series on Cheap Ticket Links in which we'll talk to one budget traveler each week. If you know someone – or are someone – we should talk to, please let us know!
This week's budget traveler is Diana Edelman. Diana is a travel blogger who resides in Las Vegas. In 2010, she decided to take a career-break and quit her job, put her life in storage and headed across the Atlantic for seven months of solo backpacking through Europe and Africa. You can follow her on Twitter or check out her blog, where she documented her backpacking experiences and continues to provide readers with tips and travel notes on her popular site, The Adventures of D. When she isn't traveling, or planning to travel, she works in PR for a restaurant group in Las Vegas.

Do you like traveling on a budget? Why or why not?
I have a love/hate relationship with traveling on a budget. My entire life is lived on a budget, so every now and then it is nice to splurge. When I traveled through Europe and parts of Africa, I did so on a tight budget since it was long-term travel.
I have to say, given the nature of my trip (solo backpacking) budget travel was the best way to go. I'm in my early 30s, so it was really easy to meet other people who were also backpacking because they, too, were on a budget. Budget traveling in this case afforded me the opportunity to meet like-minded people whom I definitely would not have met if I was traveling with a larger budget. Because budget travel usually means hostels, overland transit, free tours and the like, it allows you to meet other travelers and be open to more experiences you might not normally get if traveling on a higher budget (or no budget at all).
What's your favorite budget-friendly location that you've ever visited?
Most of the places I have been to are not that budget-friendly (thanks to the value of the USD to the Euro, GBP and other currencies). I found that the cheapest places I visited were in Eastern Europe — Bulgaria, Romania and Serbia were the least expensive and on their own currency; Montenegro was very budget-friendly given it was on the Euro. Of these three places, my favorite budget-friendly country was Romania.
What do you do to make expensive destinations easier on the wallet?
There were plenty of places I have visited that are not budget-friendly. To make these more expensive destinations easier on the wallet, I chose inexpensive hostels that offered perks such as complimentary breakfast, free coffee, free wifi, a free beer upon arrival, no charge for linens, a kitchen to use, and were walking distance to the city center. To make my money last longer, I also often opted for going to the market to get pasta and fresh fruits/veggies to make dishes at the hostel instead of going out to eat. In addition, I tried to think outside of the box. In Romania, me and a few travelers wanted to explore Transylvania. Rather than pay for a train or bus ticket, we put our money together and rented a car. It was actually less expensive than taking public transit and gave us the freedom to come and go and explore as we chose. Also — walking. Buses, metros, cabs … all of these things can add up quickly. Walking gets you out and about and is free.
What are some things you consider to be worth the splurge when traveling?
If traveling long-term, I definitely think a splurge every now and again is a private hotel room. It doesn't have to be anything super fancy and lush, but just a room with a bigger bed and a bathroom en suite can make all of the difference in the world. Also splurge-worthy is at least one traditional meal in the country I am visiting. And, visiting some of the historical sites that are important to me. I didn't do a lot of sites because many of them are really expensive (some are more than a day's budget). However, there were times when I did want to spend the money. For example, when I was in Auschwitz, I paid to have a guide so they could explain to me what I was seeing and tell stories. It was one time when spending the extra money was worth it.
If money were no object, do you think you'd still be more of a budget traveler or would you spend lavishly on travel? Why?
At this point in my life, I would still be a budget traveler, even if I had tons of money. I love the opportunities that come with traveling on a budget. I love being in hostels and meeting other people who are doing the same thing I am doing. While it would be nice to splurge on a private room instead of a dorm, budget traveling is my preferred way to see the world.
Tell us about a "big save."
When traveling, it is always great to meet locals. When I was in Spain, I had the amazing fortune to become good friends with quite a few locals. When it came time to visit other parts of the country, they not only opened their homes to me, but also provided transportation in the form of their vehicles. I saved a lot of money in Spain and was also blessed with friends I will have for the rest of my life.
What's the most over-priced part of travel – the budget-buster?
Without a doubt, for me the most over-priced part of travel is the most necessary — transit to other places. In some countries, it doesn't bust the budget, but in many, especially Europe, transit to another city or country goes above the daily budget.
What's the most embarrassing thing you do to save money (travel or not)?
I don't know if it is embarassing — well, maybe for the people I am out in public with — I don't buy new clothes or shoes often. I think it is a residual effect from backpacking — I only bought a new round of clothes once in seven months (and they were T-shirts mostly). And if I go out to a bar, I order whatever is cheap … the art of sacrificing taste for money.
What are some super-affordable places to travel in the world right now?
Well, I am going to Southeast Asia in September and it is super-affordable there right now. I've heard Central and South America are affordable as well. Eastern Europe countries that are not on the Euro (except Turkey, which is still pretty pricey).
You'll find more information about Diana at her site The Adventures of D; and she's on Twitter @dtravelsround.