Budget Traveler Interview: George and Lisa Rajna
by Jessica
September 9th, 2011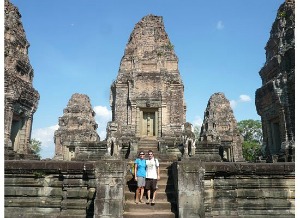 We love hearing from travelers, so we're starting a new series on Cheap Ticket Links in which we'll talk to one budget traveler each week. If you know someone – or are someone – we should talk to, please let us know!
This week's budget travelers are George and Lisa Rajna, with our first "he said/she said" interview! Lisa and George spent eleven months wandering Southeast Asia from Indonesia to Mongolia where they fell in love, got engaged, and now as a married couple are writing a book about their journey.
Lisa is an accomplished travel agent, blogger, speaker, science teacher and member of the Traveler's Century Club, a unique travel club limited to travelers who have visited one hundred or more countries. Look for her underwater as a PADI divemaster, in the science lab at the Brawerman Elementary School, or in Brentwood at Simply Science Camp. Lisa's monthly column, Science and Your Child,€ can be found at LA Mom Magazine. She also writes for the travel section at Technorati.com and blogs on the Jewish Journal, WeSaidGoTravel and WeSaidGoScience.
George is a bilingual speech therapist who has traveled to 100 countries across six continents. He composes music on the guitar and ukulele, and spent two years working in rural education for Peace Corps Paraguay. George recently took a career break for one year in Asia and can't wait to take another extended travel adventure to exotic locations.

Do you like traveling on a budget? Why or why not?
George (He said): Yes. At first it was by necessity because I traveled a lot but I only made a teacher's salary. Now that it is not a necessity–it is still my preferred way to travel because I meet far more interesting people. I still can travel for a long time without spending excessive money.
Lisa (She Said): I do like budget traveling but I had to get used to it. I lived for seven years on a cruise ship and was used to things being nice and clean and pretty and budget travel does not always include those adjectives. When George and I started to travel together, I think we both evolved our travel styles. I agree we meet many more people in off the beaten track and budget locations. We are in touch with many of the travelers we have met over the last four years and they are some of the best parts of our travel experiences.
What's your favorite budget-friendly location that you've ever visited?
He Said: I would have to say my favorite budget destination would be Indonesia. Especially when I visited Sulawesi in 1998 and the exchange rate was amazingly favorable. In six weeks, I spent under $400.
She Said: My favorite budget destination would be Cambodia. While we were away for eleven months, we had three weeks with my parents when we swapped from minus one star travel to five star travel in Asia. When we went back to budget style, we ate dinner for two for $4.50 USD in Siem Reap; excellent Thai food on the cheap.
What do you do to make expensive destinations easier on the wallet?
He Said: From past experience it is difficult to make an expensive destination "third world" cheap, still you can buy food at the local market and cook for yourself in the communal kitchen facility. Staying in backpacker dorms or hostels type accommodation. In addition, cut back on expenses by buying local alcohol and not drinking in bars and restaurants. Limit general purchases that are unnecessary.
She Said: While in Moorea, French Polynesia, we bought food, cooked pasta, snorkeled and hiked. I loved it. We saw a watermelon that was so expensive if I tell the cost you will never believe me! We stayed in Matira Point, Bora Bora at Tina and Robert's which was $100 a night and next to the InterContinental Hotel which was $1000 a night. I felt like we had the best beach and in comparison it was budget but it was just expensive there.
What are some things you consider to be worth the splurge when traveling?
He Said: I would definitely still remain a budget traveler overall except I would potentially indulge now and then in a lavish hotel room or a fine dining experience.
She Said: Yes, I would spend lavishly on travel by traveling more often and more hard to get to destinations. I would immediately go to Bonaire and dive for seven days non-stop and then go to Bhutan for three weeks. After that, I would probably still go back to hostel style living as I do like the people I meet while traveling in a budget style. The people we met while traveling overland from Cambodia to Laos who all stayed at the same place with us in Don Det, Laos are often more open to meeting others and sharing wacky travel adventures. I love the journey!
What are some super-affordable places to travel in the world right now?
He Said: All of the most affordable places are generally located in the South East Asia region. Particularly budget places would include Cambodia, Indonesia, India, Nepal and Thailand.
She Said: I agree.
You'll find more information about George and Lisa at their site We Said Go Travel; and they're on Twitter @wesaidgotravel.