Budget Traveler Interview: James Clark
by Jessica
August 12th, 2011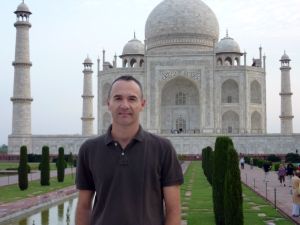 We love hearing from travelers, so we're starting a new series on Cheap Ticket Links in which we'll talk to one budget traveler each week. If you know someone – or are someone – we should talk to, please let us know!
This week's budget traveler is James Clark. James is a travel writer, photographer and editor of numerous travel websites (including Nomadic Notes), working in the online travel business since 2002. James is currently homeless and travelling full time.

Do you like traveling on a budget? Why or why not?
I have always travelled on a budget and it is my preferred method of travel. I started out as a budget backpacker, and now I travel as a self employed long term traveller. Being my own boss (and book keeper) I am acutely aware of my monthly income and expenditure. I also find that travelling on a budget brings me closer to the local culture, such as by taking a local bus over a tour bus, or staying in a family run guesthouse over a chain hotel.
What's your favorite budget-friendly location that you've ever visited?
I would have to say Indonesia. It is the cheapest country in a region that is famous for being budget friendly, yet outside of Bali it doesn't get nearly as many visitors as compared to Thailand and the Indochina loop.
What do you do to make expensive destinations easier on the wallet?
When I know I am going to an expensive destination I try and arrange as much as I can in advance that may save money. Some examples would include looking for couchsurfing opportunities and booking low cost airline flights in advance. Once I am there, being able to self cater is a big help to the budget. I walk most of the time as well, which is a great way to see a city and saves a bit on daily transport costs.
What are some things you consider to be worth the splurge when traveling?
Convenient flight times and direct flights are worthwhile splurges, and I will always take a train over a bus. Good coffee is always worth it for me as well, so no free Nescafe at the hostel/hotel for me.
If money were no object, do you think you'd still be more of a budget traveler or would you spend lavishly on travel? Why?
Depends where I am. For example in Southeast Asia I would still prefer to stay in a guesthouse over a hotel and eat street food over restaurant food. In Europe/USA I would definitely upgrade from hostels to private accommodation, but I wouldn't pay for wi-fi on principle. As for flying, If money were no option I would travel business class on long haul flights but probably still fly economy on short haul.
Tell us about a "big save."
I love looking out for crazy specials that low cost airlines sometimes put on, such as those free plus tax type sales. My last big save was a flight with AirAsia from Kuala Lumpur to Delhi for $20usd, which included taxes and a checked bag.
What's the most over-priced part of travel – the budget-buster?
I loathe taking taxis and try and avoid taking them whenever possible.
What are some super-affordable places to travel in the world right now?
I've just returned from India, which is still as super-affordable as ever. China is also great value, and should be considered while their currency is still pegged at an unnaturally low rate. If you are Australian, travel to the UK and Europe has never looked so good with the Aussie dollar riding high against the Pound and Euro.
You'll find more information about James at his site Nomadic Notes; and he's on Twitter @nomadicnotes.