Budget Traveler Interview: Kate McCulley
by Jessica
October 7th, 2011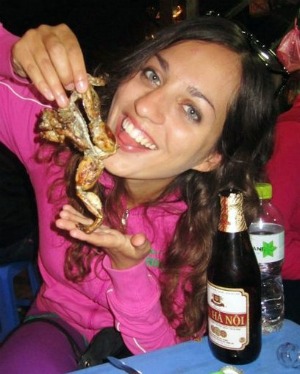 We love hearing from travelers, so we're starting a new series on Cheap Ticket Links in which we'll talk to one budget traveler each week. If you know someone – or are someone – we should talk to, please let us know!
This week's budget traveler is Kate McCulley. Kate is a Boston native who traded in her pleasant but unfulfilling life for the ups and downs of long-term travel and entrepreneurship. She recently spent six months backpacking Southeast Asia and rarely said no to anything — from drinking snake blood in Vietnam to getting into a Muay Thai fight in Thailand.

Do you like traveling on a budget? Why or why not?
I love it. I'm a long-term traveler, and I travel on a budget so that I can travel for longer. I'd much rather backpack for two months in Asia than have a lavish weekend in Las Vegas. I also love the backpacking scene, so that helps!
What's your favorite budget-friendly location that you've ever visited?
Thailand is incredible — you get so much value for so little money, especially in the north, and you don't have to sacrifice a lot of comforts in the process, like you would in other countries. I lived very well in northern Thailand on $30 per day, Bangkok on $40 a day, and the islands on $50 per day.
What do you do to make expensive destinations easier on the wallet?
Lodging is often the most expensive part, so I like to stay with friends or couchsurf in expensive destinations. If neither are an option, I check out the local hostel.
What are some things you consider to be worth the splurge when traveling?
Quality luggage that won't fall apart, as well as items to protect and lock up your valuables, are most definitely worth a splurge.
If money were no object, do you think you'd still be more of a budget traveler or would you spend lavishly on travel? Why?
I'm not going to lie — I would definitely do an occasional splurge vacation. But I've lived frugally my entire life, and I feel like I would naturally revert to being a budget traveler, no matter the state of my finances.
What are some places where you have been able to save on travel that you think most people overlook?
A lot of people don't realize how much you can save by drinking like a local! Whether it's Lao Lao whiskey in Laos or domestic beer in Czech Republic, drinking as the locals do will always save you more money.
Tell us about a "big save."
I flew from Milan to Budapest and Budapest to Paris for 0.01 EUR total (about 45 EUR including taxes) — thanks to a super-discount rate on budget airline WizzAir!
What's the most over-priced part of travel – the budget-buster?
Inflexible plans will always drain your budget. If you're required to fly from one exact city to another on a certain day and can't get a cheap flight, you're stuck. Be flexible, skip Amsterdam, and take that $15 flight to Barcelona tomorrow instead!
What's the most embarrassing thing you do to save money (travel or not)?
During my university years, I would regularly eat soup out of the pot in which I cooked it so I wouldn't have to spend money on more soap.
What are some super-affordable places to travel in the world right now?
Southeast Asia is incredibly affordable and suited for all kinds of travelers. Laos and Cambodia are the cheapest of the bunch, but Thailand and Vietnam are extremely well-priced as well.
You'll find more information about Kate at her site AdventurousKate.com; and she's on Twitter @adventurouskate.