Cheap Las Vegas travel deals
by Miss Julie
September 18th, 2009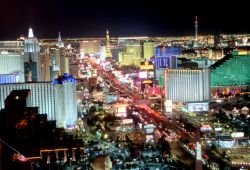 I love to hate Las Vegas. Or should I say I hate to love Las Vegas? Maybe it's a little bit of both. While Vegas is certainly the home of over-the-top excess, the capital of tacky and the definition of so many things I claim to dislike (especially in a travel destination) there is just something slightly irresistible about Vegas. Maybe it's the lack of open container laws or social acceptance of day-light drinking, but despite the huge number of lakes and fountains in the desert, sky-high prices and Dinseyland for adults feeling, I have to admit Vegas is a whole lot of fun. From great shows to highly rated restaurants, adding on to the list of positives for Vegas lately have been some of the absolutely insane travel deals to Sin City that have been popping up pretty much everywhere lately.




Cheap rates at 5 star hotels
It is certainly no secret that Vegas has been especially hard hit by the economic recession. While some may claim part of the bust is in direct relation to an over zealous boom in the inflated good times of the recent past, whatever the reason, there are a whole lot of empty hotel rooms around the strip these days, which has made for some incredible deals on cheap Las Vegas hotels.
I recently wrote about how the five-star Wynn Hotel on the Las Vegas strip was offering up rooms for just $139/night, including a $75 resort credit. However, this is certainly not the only deal to be found at a high-end hotel on the strip. In fact, Jen Leo at the Los Angeles Times recently wrote all about how to find cheap rooms at 5-star hotels in Vegas. Her tips include signing up for e-mail newsletters and using a few different sites to scope out deals.
As it turns out, cheap Vegas hotels aren't the only deals to be found on the strip. With hotel rates down, many entertainment producers in Vegas have also been forced to drop prices on Las Vegas show tickets (few people are willing to spend more than the cost of their room on a ticket to show they found). According to a recent article in Variety, Las Vegas show have partnered with hotel to lure recession hit audsand lowering prices has been one huge part of this campaign.
Cheap flights to Vegas
There are also a plethora of deals on cheap flights to Vegas right now. If you opt not to bundled your flight and hotel together as part of a Vegas vacation package (which there are also some pretty insane deals on right now), airlines like Southwest, Jet Blue and Frontier are offering up good fares on flights from many destinations to Las Vegasleaving you a few extra bucks to hit the slots with.
Other Las Vegas Travel Deals/News: