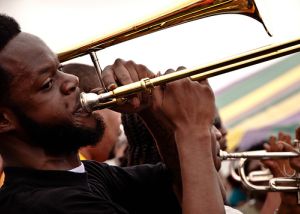 Next to Mardi Gras, Jazz Fest is perhaps the second most popular time to be in New Orleans. Although the city's reputation as a jazz-filled city isn't without merit, the New Orleans Jazz & Heritage Festival (most commonly known simply as Jazz Fest) runs the musical gamut from Dixieland to hip-hop to rock, and lots of stuff in between – not to mention scores of music fans. This is one of the many reasons why a trip to New Orleans Jazz Fest requires a little pre-planning.
To help you plan your own trip to see New Orleans Jazz Fest, then, here are some articles we've published recently – including tips on finding cheap airfare and other ways to get to New Orleans and the festival grounds. You'll also find links below for accommodation in the Crescent City to help complete your travel planning.
>> New Orleans Jazz Fest in 2012 is April 27 – May 6.