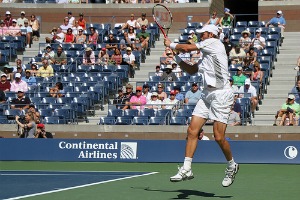 There are several reasons why you might balk at the idea of a trip to New York City in August – the high heat and high cost being two of the biggest ones. If you're a tennis fan, however, you'll go anyway – because New York is the place to be for the U.S. Open Tennis Championships.
Since 1978, the U.S. Open has been played at Flushing Meadows-Corona Park in Queens, taking place over the course of two weeks in late August and early September. Not every match is worth writing home about, of course, but if you plan ahead (and are willing to shell out the cost of the best tickets) you can get in to see some of the biggest names in the tennis world playing in the tournament.
New York is a famously challenging destination for budget travelers, so going to the city during a major sporting event isn't going to be cheap. There are ways to make it less painful for your bank account, however, and in this article we'll outline some of the ways to get to the U.S. Open Tennis Championships without spending your life savings.
>> In 2012, the U.S. Open Tennis Championships are taking place from August 27-September 9.