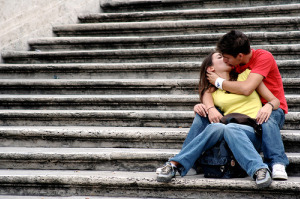 There are plenty of arguments – good ones, too – for treating every day like Valentine's Day. Any day other than February 14th isn't marketed to death, for starters, and if you honor your sweetheart with a romantic getaway in (let's say) April you'll score extra points. But if you've still got to deliver something amazing on Valentine's Day itself, then do your bank account a favor and look for Valentine's Day travel deals.
Yes, come February Valentine's Day travel deals abound – from a quick overnight escape to a posh hotel nearby to an extended break on a deserted island. So even if you haven't noticed, chances are good your sweetie has. But are those deals really deals? How can you find the best prices on airfare for Valentine's Day? We'll take a look at some of the best ways to find Valentine's Day travel deals in this article.
>> In 2012, Valentine's Day is a Tuesday.