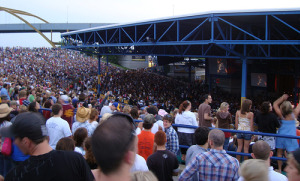 When you know that Summerfest takes place in Milwaukee, Wisconsin and that Milwaukee has an airport, that may seem like all you need to know to figure out which airport to fly into for Summerfest. And to be sure, if you did book your trip through Milwaukee's main airport without even knowing there are other airports in the area that would be fine – except you might be missing out on cheaper airfares.
As you learned in the article about how to find cheap airfare to Summerfest, restricting your airfare searches to just one specific day or a few hour window could limit your ability to find the cheapest fares – and it's a similar situation with airports. Some airports are more popular with discount airlines than others, and if you don't know the airports well you may not know which ones have a higher concentration of budget carriers.
In other words, it's best to check all of the airports that are relatively close to Milwaukee just to be on the safe side. So here are the airports in and around Milwaukee that you can use for Summerfest.
>> When is Summerfest in Milwaukee? In 012, it's from June 27 – July 8 (closed Monday)