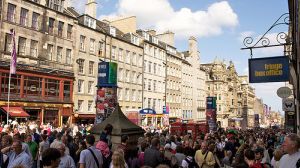 Edinburgh is a popular enough place to visit any time of the year, but for most of the month of August the city is transformed into one gigantic open-air arts festival. The Edinburgh Festival Fringe – lovingly known simply as "The Fringe" – is the biggest arts festival anywhere, and rather than being just a fancy festival with art or theatre exhibits behind closed doors, The Fringe spills out into the streets of Edinburgh, so that everywhere you look there's performance art going on. It's a feast for the senses.
Because the Fringe Festival in Edinburgh is so popular, however, it can make planning a trip to Edinburgh in August quite complicated – not to mention expensive. Hotels and hostels book up well in advance, for instance, and even if you're on the ball and book ahead of time you're going to notice the room rates are higher than normal. But perhaps the biggest expense of your trip to Edinburgh – especially if you're traveling from far away – is going to be your airfare. Not only is the Festival Fringe a big draw for thousands of people, it also falls right in the midst of the peak tourist season in Europe. That's two counts against anyone who's a budget traveler.
Still, there are ways to find Edinburgh Festival Fringe travel deals, and we've talked about some of them in a series of articles this past week. You'll find links to those articles below – including what airports to fly into if you're coming to Edinburgh from overseas, and how to find cheap airfare no matter which airport you're flying into.