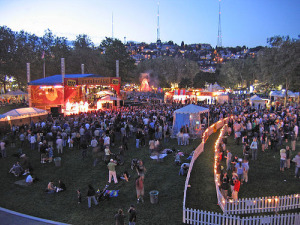 Washington State music lovers kick off the summer with the Sasquatch Music Festival in the Columbia Gorge each May, and they zip up to Seattle for the summer-ending Bumbershoot music-and-arts festival to bookend the season. Summers in the Pacific Northwest are all about enjoying as much of the nice weather as possible, since it doesn't last long, so it's a great excuse for people outside the state to come visit, too.
Bumbershoot started in Seattle in 1971, and has been a Labor Day weekend fixture since 1977. Festival-goers are regularly treated to local talent on the stage, but Bumbershoot has grown enough in stature over the decades to also attract big acts from all over the world. The "arts" part of the festival includes things like independent films, dance performances, poetry slams, and street performers, and there are plenty of vendors selling a variety of foods and arty souvenirs.
Incidentally, the word "bumbershoot" means "umbrella," and that's worth noting. Labor Day weekend in Seattle is usually perfectly lovely – but this is the Pacific Northwest, so anything could happen. People in this part of the world don't let a little rain keep them from enjoying their festivals, however, so the show will most certainly go on – rain or shine.
>> Bumbershoot takes place each yer over Labor Day weekend